20 Most Promising Oracle Solution Providers - 2020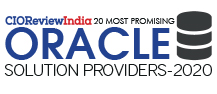 Oracle is witnessing a year on year growth in revenue by its Software-as-a-Service offering with technology trends such as intelligence and analytics in tandem with a rise in customers investing in database management systems. Some of the Oracle applications extended to its customers are Oracle Enterprise Resource Planning (ERP), Oracle Customer Relationship Management (CRM), Oracle Supply Chain Management (SCM), Oracle Customer Experience (CX), Oracle Enterprise Performance Management (EPM), Oracle Construction and Engineering and Oracle Financials Management. These solutions are revolutionizing the way businesses can modernize, innovate, and compete in today's digital world. Successful implementation of Oracle solutions display unparalleled cost savings, increased growth, and high levels of customer and employee satisfaction. While Oracle assures success in this digital transformation with its expansive portfolio of offerings, customers are in need of solution providers that can help them leverage Oracle technology platforms to their full potential and bring about real change in business.
Enabling organizations to choose the right vendor to work with, CIOReviewIndia comes to the fore with a list of "20 Most Promising Oracle Solution Providers - 2020". This list presents information of skilled vendors that possess technically adept teams, domain expertise, industry-rich experience and a proven track record having serviced a broad range of customers. A distinguished panel consisting of highly knowledgeable CEOs, CIOs, industry analysts and CIOReviewIndia editorial team, post having conducted a market research, have finalized on the final 20 vendors who can assist businesses in achieving their business goals with increased customer satisfaction.
We present to you CIOTechOutlook 20 Most Promising Oracle Solution Providers - 2020.
Top Oracle Solution Providers
| Company Name | Company Description |
| --- | --- |
| Trempplin Infotech | An Oracle Gold Partner with rich banking domain expertise, extending a comprehensive suite of Oracle solutions. |
| Company Name | Company Description |
| --- | --- |
| Rythium Technologies | Possesses in-depth domain expertise and specialized Software Asset Management & Oracle License Management Services. |
| Company Name | Company Description |
| --- | --- |
| TechCloudPro | Has vast experience in selling NetSuite licenses and offers consulting for NetSuite cloud solutions, ERP Implementation, and Support. |
| | |
| --- | --- |
| AVATA | Offers Oracle SCM, ERP and EPM Cloud solutions. |
| CoEqual Associates | Offers services for Oracle Database Implementation, Support and Monitoring, Upgradation, Migrations and Performance tuning. |
| Concinnate Partners | Offers AI and ML powered intelligent security systems built on the Oracle Cloud platform. |
| Cybernoor Corporation | Provides Oracle Cloud Solutions, Performance Tuning, System Reviews, Application Development and Managed Services. |
| Ecovue Solutions | Provides consulting services around Oracle Technology which include Oracle Fusion Middle ware Implementations, ERP Integrations, Remote Hosting & Support and Training. |
| HRS | Offers Oracle Cloud solutions for Property Management, Business Analytics, Payment Gateway, Mobile Applications, Online Distribution Services, Finance & HR Systems, Passport Scanning & Recognition... |
| Kāladi Consulting Services | Provides Enterprise Resource Management, Customer Relationship Management and Supply Chain Management system solutions built on the Oracle Cloud platform. |
| Nehish Software Solutions | Offers Oracle Database Administration, Middle ware, Hardware and Consulting Services to the Banking and Finance industry. |
| NTSSOFTPRO Solutions | IT Services and Consulting Company with digital transformation and business efficiency across different industry segments. |
| Ojas Innovative Technologies | Offers Oracle Cloud Consulting with expertise in Oracle IdAM. |
| ROSTAN Technologies | Delivers ERPs, Business Intelligence and Database services on the Oracle Platform. |
| SAiS | Implements Oracle E-Business Suite, Oracle Cloud Applications and BI & EPM suite of products. |
| Saniel Software Services | Offers Oracle Implementation, Integration and migration services. |
| Solistech Solutions | Offers a wide variety of services which include Oracle Database Solutions, Oracle E-business Suite, Oracle Identity & Access Management and Oracle Fusion Middle ware services. |
| SVSS Infotech | Technology consulting and development firm having considerable expertise in applying cutting edge technology related to software development and Internet technologies. |
| Techfruits Solutions | Offers Oracle Hardware and Cloud solutions integrated with ML, Deep Learning, Virtual Reality, and Augmented Reality. |
| Techurate Systems | Delivers Solutions for Banks and Financial Institutions on the Oracle Platform. |