20 Most Promising Oracle Solution Providers- 2016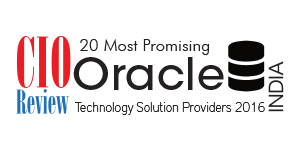 Oracle is one of the world's largest software enterprise companies. Oracle's solutions and products are at the heart of every organization in the world. Oracle provides a variety of products and services which are spread across almost all sectors like Banking, Engineering and Construction, Finance, Healthcare, Life Sciences and public sector amongst others. Some of their products include Hyperion, E-Business suite, Taleo, Siebel, and Peoplesoft .
Oracle offers technological and comprehensive, pre-integrated business applications, including key functionality built specifically for its clients. Oracle keeps releasing new versions with better functions and features in order to meet rising technology requirements. Initially Oracle was focused on on-premise software market but now it has extended the services to cloud computing; within cloud computing, it has added services like Oracle Ravello Cloud Service, Oracle Container Cloud Service and enhancement etc.
From integrated, industry-specific solutions to the most comprehensive cloud on the planet, Oracle delivers world-class hardware and software solutions that work together in the cloud and data center. Oracle has many advantages and features that give security, protection, maintenance, reliability and performance on operation of data.
Today's CIOs are on the lookout for partners who with a strong business acumen. CIOReview has come-up with a list of "20 Most Promising Oracle Solution Providers 2016" in order to ease the process of choosing a potential solution provider. A distinguished panel comprising of CEOs, CIOs, VP's, Analysts and CIOReview editorial board have decided on the names of Most Promising Oracle Solution Providers.
We present to you CIOTechOutlook 20 Most Promising Oracle Solution Providers- 2016.
| | |
| --- | --- |
| Croyant Software Technologies | A provider of Oracle E-business suite services, Oracle Database Technical Services, Oracle Hyperion services etc |
| Focus R Technologies | A provider of ERP implementation service, product development, business process reengineering, process automation, system audit, project management and training |
| GenX Info Technologies | A provider of services in the area of custom application development, maintenance, testing & business process outsourcing etc. |
| Innostrat Technologies | A provider of learning solutions and application development services |
| Intelliasia Software | A provider of Oracle service, Oracle cloud application, engineered services, mobile computing, cloud computing |
| IONE IT Solutions | A provider of Oracle Database, Enterprise Resource Planning (EBS), Application Management, Fusion Middleware, Oracle Cloud Application, Weblogic, Operating System & Virtualization services and more |
| Lonar Consulting | A provider of Oracle EBS Solution, INFOR Solution, Big Data, Hadoop, Java, Oracle EPM Solutions, Business Intelligence and Analytics, DBA Services, Mobile Application Solutions, Social Media... |
| mcAMDOIS Tech Solutions | A provider of PeopleSoft Change Management and Version Control, Outsourcing Services, Oracle Application Services |
| mcIntellect Solutions | A provider of Oracle shared services, focusing on support contracts and Oracle hardware support renewals |
| NotionAce Solutions | A provider of Oracle Database Services, Web Services, IT Consulting and Staffing services |
| ORATalents Solutions and Services | A provider of Oracle Fusion Middleware, Oracle eBusiness Suite, Oracle Database and Enterprise Systems, Datawarehouse and BI and Java, Web, Mobile Solution Development Technologies |
| Pcbapps | A provider of Oracle ERP Implementation, Upgradations, Migration services, Cloud applications,Managed Services and more |
| Pensio Software Technologies | A provider of training, hiring and contracting of Oracle ATG Web Commerce services as well as development and systems Integration services and more |
| ProgFIN Technologies - A Progneur Company | A provider provides an array of services in the Banking and Finance sector such as Core Banking, Channel Banking, Microfinance and more |
| Roadmap IT Solutions | A provider of ERP Solutions to varied manufacturing and service Industries |
| Simple Logic IT | A provider of services related to Enterprise Mobility, Application Management, Database Management, Analytics etc |
| Technology Xpress Info Solutions | A provider of Oracle Applications Implementation and Maintenance service |
| TRINAMIX | A provider of Oracle Cloud Solutions, Oracle E-Business Suite, Oracle Transportation Management etc. |
| Vedabi Global | A provider of Oracle Application Database Management services, Oracle, e-business suite, Hyperion services etc |