20 Most Promising Oracle Technology Solution Providers - 2015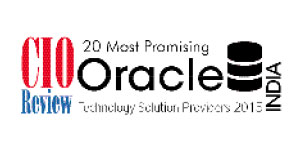 Oracle is the word's leading supplier of software for information management and is best known for its sophisticated relational database products which are used in Fortune 1000 corporations. It is no secret that Oracle solutions and products are at the heart of many enterprises across the world. Oracle has its reach in the Engineering & Construction, Financial Services, Healthcare, Life Sciences, Oil & Gas and public sector amongst others. Products such as Oracle Hyperion, E-business Suite, Oracle DB, Fusion Sales Cloud, Fusion HCM and many others form the core of enterprise ecosystem today.
In the past, Oracle has been firmly fixated on the on-premises software market. Today, the company that only a few years ago marginalized the promise of cloud computing is now entrenched in the SaaS camp and goes so far as to say that its cloud business is keyto its success moving forward. In this changing environment, a prospective customer would need to sift through a huge stack of products to narrow down on the one that suits their business. Today's CIOs are on the lookout for partners who are leading consulting and solution providers with strong business acumen. To help them choose most suitable Oracle partners, CIOReview has come up with a list of "20 Most Promising Oracle Technology Solution Providers in India". A distinguished panel comprising of successful CEOs, CIOs, VCs, analysts and CIOReview's editorial board have decided on the names of the most promising Oracle technology solution providers.
We present to you CIOTechOutlook 20 Most Promising Oracle Technology Solution Providers - 2015.
| | |
| --- | --- |
| 9EDGE Technologies | A provider of Oracle JD Edwards ERP Solutions which are useful to help enterprises redesign and upgrade their current business processes |
| Access Infotech | A provider of web enabled ERP solution to empower users to connect to a centralized system from different locations and department. |
| Advisional India | A provider of Oracle Solutions that include comprehensive Oracle applications, middleware and database solutions |
| Applaud Solutions | A provider of phone, tablet and desktop apps for Oracle E-Business Suite HCM implementations |
| BLUE STAR INFOTECH | A provider of Oracle E-Business Suite which includes Oracle Financials, Daily Business Intelligence, Inventory Management, Purchasing, and Order Management tools in addition to Oracle's Business... |
| Chenab Information Technologies | A provider of automated solutions for Export Import business within Oracle's E-Business Suite |
| Ciber India | A provider of implementation, upgradation, extention and maintainance of Oracle's E-Business Suite, PeopleSoft, Hyperion, JD Edwards and Fusion product lines |
| Conacent Consulting | A provider of custom developed applications and Oracle Databaseservice to clients in domains like Financials, Supply Chain, Manufacturing and HR |
| ContinuServe Softech India | A provider of Oracle solutions that encompass Exadata, Oracle Database Management Services, Oracle E-Business Suite, HFM,PeopleSoft and Siebel CRM |
| eBIW Info Analytics | A provider of Industrial data model solutions with specialization in Data Warehousing, Business Intelligence and Analytics |
| Evosys | A provider of Enterprise Performance Management Service by using Oracle's Hyperion Solutions in addition to Oracle Cloud based applications for ERP, Finance, HR and Supply Chain Management |
| Greencube Global | A provider of Enterprise Performance Management Service by using Oracle's Hyperion Solutions |
| Infosys Limited | A provider of Oracle technology solutions with focus on Health Information exchange and iGovernment by using solutions such as Oracle E-business tools, BI Solutions and Siebel |
| LDS Infotech | A provider and reseller of Oracle Databases such as Standard Edition, Enterprise Edition and Application Server Edition apart from providing Oracle E-Business Suite and Oracle Grid Computing... |
| Path Infotech | A provider of educational courses by conducting Oracle Workforce Development Program (WDP) in addition to providing solutions using Oracle's EBS, CRM and Middleware |
| PiLog India | A provider of master data quality solutions over cloud and onpremises for various industries |
| Ritwik IT Services | A provider of IT consulting and outsourcing services with focus on Enterprise Applications and Solutions in Oracle E-Business Suite, Oracle Fusion Middleware and Business Intelligence Technologies. |
| Tiara Consulting Services India | A provider of ERP based IT solutions using Oracle EBS Suite in the areas of Finance, Order Management, Trade Management and manufacturing |
| TriCore Solutions | A provider of a suite of Oracle Managed Services including Oracle application hosting, cloud services, business analytics, database managed services, business intelligence, and data warehouse... |
| XDUCE | A provider of Oracle Database installation services including oracle database software on Linux, IBM, Solaris, Windows etc. along with various database management services including database... |